Insights from the President
Published by CME Manitoba on January 09, 2018
2017 was a turbulent year for manufacturers. What to expect in 2018?
A message from Canadian Manufacturers & Exporters President & CEO, Dennis Darby

CME staff at our annual conference in October
As we begin 2018, Canadian manufacturers are leaving behind a year of uncertainty and change, but with the quiet confidence that they can succeed here and abroad beyond what they thought was possible by harnessing the natural, technology and human capital resources of our country. And it is our role at CME to do everything we can for our members to realize their potential for growth and prosperity in a tougher and tougher global competitive environment.
The NAFTA re-negotiations, the rules of engagement with our most important partner, brought a tailspin of uncertainty that will continue into the new year. The provisional implementation of the trade agreement with Europe, a new and untapped market for Canadian almost went unnoticed, eclipsed by reports a TPP potential re-boot, the potential for free-trade talks with China, not to mention reforms to the tax treatment of small businesses.
But, change, as daunting as is may seem, is positive. It is an opportunity to rethink, reassess, reshape the future in a way that will make the sector and, Canada, stronger.
Keeping pace with changing times is a continual challenge and, CME is devoted to ensuring that manufacturers understand the impacts and can persevere through new technology adoption, market openings, and investment.
Our comprehensive plan, Industrie 2030, advocated for and brought manufacturers many wins this year notably, overwhelming support from the House of Commons Committee on Industry for our recommendations and the federal government innovation strategy which was rolled out in 2017 as part of the federal budget. CME was also able secure a reduction in the small business tax rate and an additional $1.8 billion to support skills training.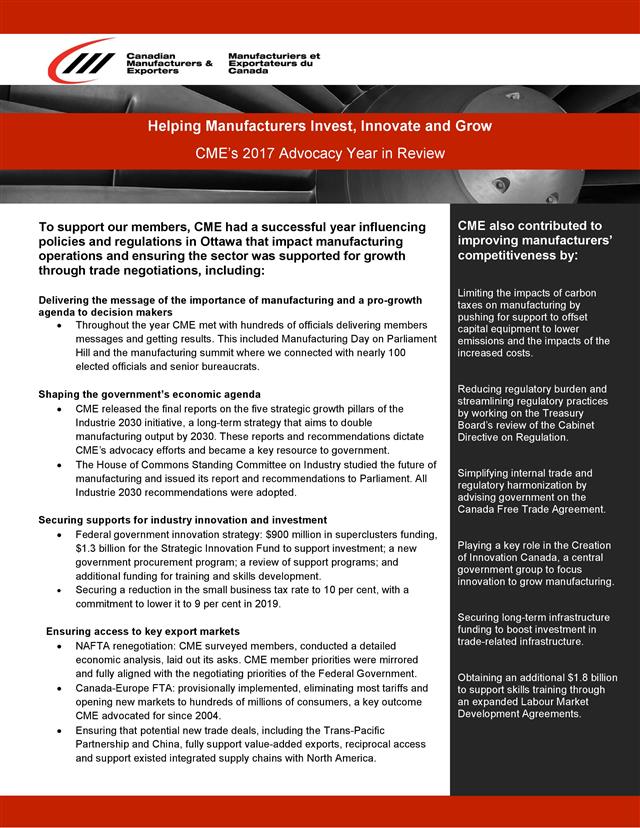 (CME's 2017 federal advocacy year in review)
Discussion panel following the reveal of CME's Women in Manufacturing action plan
As the world around us is relentlessly transforming, the things that should have changed long ago but didn't become more noticeable. At CME, we are committed to increasing the proportion of women in manufacturing. We took a first step at our annual conference by revealing our action plan to encourage more girls and women to enter this dynamic and technology-rich sector. The seeds have been planted and we will work to cultivate and grow this effort.
And, in 2018, we will go to work to ensure that policymakers know the value of manufacturing, the positive impact it has on people and communities, and the potential for innovation and growth it promises for our country. Happy New Year.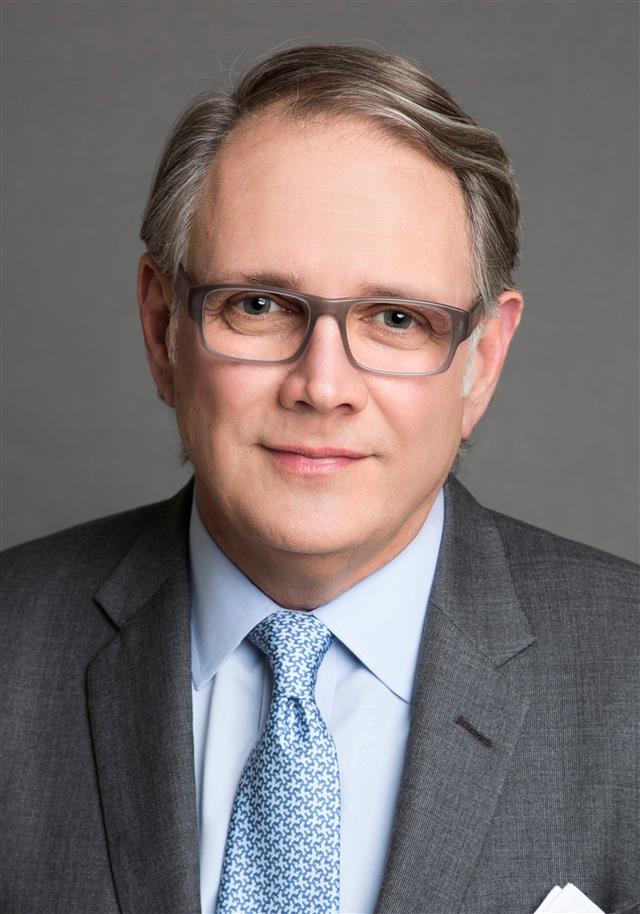 Dennis Darby is the President & CEO of Canadian Manufacturers & Exporters.
Dennis joined CME after almost nine years as CEO of the Ontario Pharmacists' Association and a 24 year-long career in senior management at Procter & Gamble.
Dennis graduated from McMaster University in 1984 with a degree in Chemical Engineering and Management, and he is a registered Professional Engineer in Ontario.
Found in: Manufacturing Competitiveness